Dienstag, 21.03. 18h Awareness Institut KICKOFF Veranstaltung – online

Vor Ort in Wien: Kulturzentrum 4lthangrund, Augasse 2-6, 1090 Wien (www.4lthangrund.jetzt)
oder online zuschalten – Stream am 21.03. via: http://awareness-institut.net/
Die Webseite wird erst ab 21.03. online sein.
Die Veranstaltung findet auf Deutsch statt. Im Q&A Teil sind auch Fragen auf Englisch möglich.
In den letzten beiden Jahren hat sich das Awareness Institut als Vernetzung und Plattform -von Gruppen und Einzelpersonen, die Awareness-Bildungsarbeit im deutschsprachigen Raum machen, zusammengefunden. Beim KICKOFF stellt sich das Awareness Institut und die damit verbundenen Personen vor. Dabei geht es um gemeinsame Weiterbildungsangebote, Mindeststandards in Awarenessarbeit sowie darum, wie andere Gruppen und Kollektive mitwirken können.
Im Stream mit Beteiligung aus Berlin, Hamburg, Dresden, Wien und weiteren Städten.
Nach einem gemeinsamen Input gibt es die Möglichkeit für Fragen & Austausch.
Wegbeschreibung (inklusive barierrearmen Zugang) 4lthangrund siehe: https://www.4lthangrund.jetzt/zugang-zu-4lthangrund/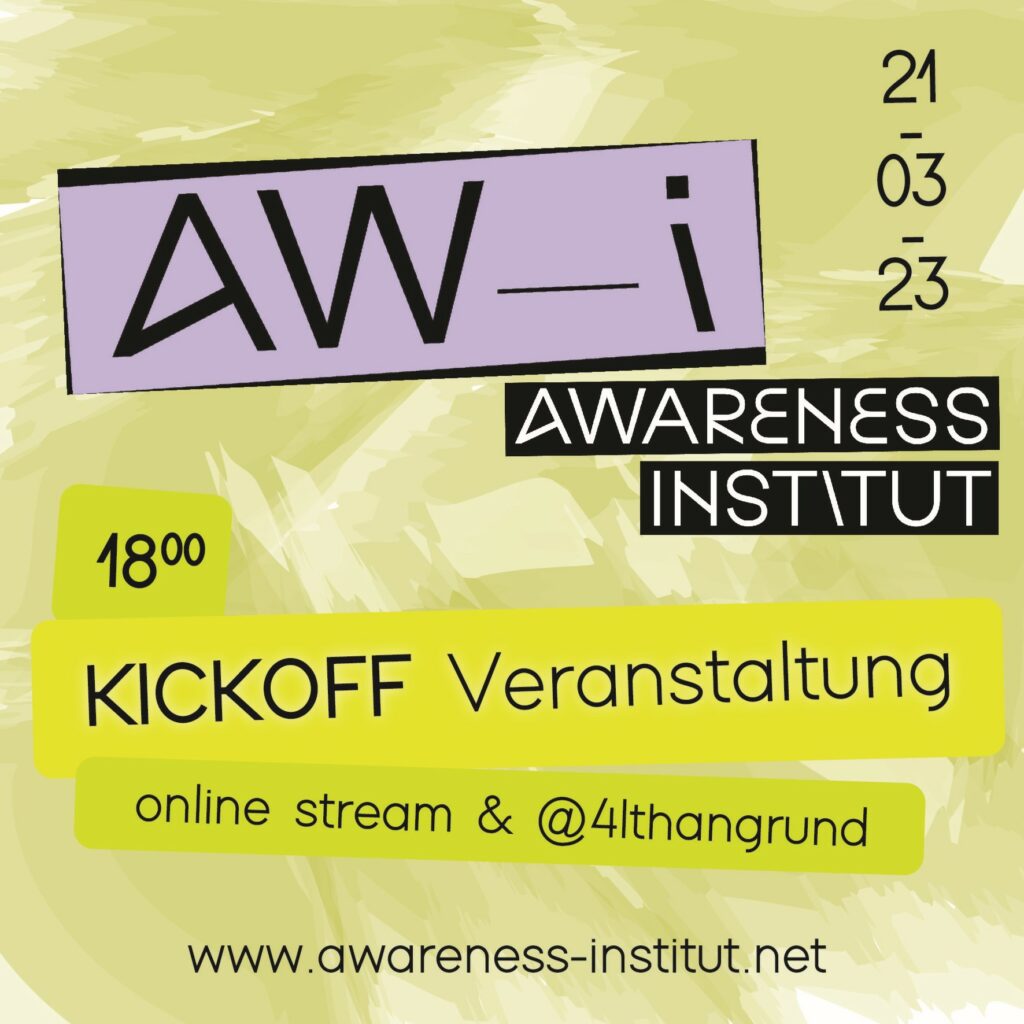 The website will not be online before 21.03.
The event will be held in German. In the Q&A part questions in English are also possible.
In the last two years the Awareness Institute has come together as a network and platform of groups and individuals doing awareness education work in the German-speaking area. At the KICKOFF the Awareness Institute and the associated people will introduce themselves. Together they will present a joint workshop & training program, minimum standards in awareness work and how other groups and collectives can participate.
Together online with participation from Berlin, Hamburg, Dresden, Vienna and other cities.
After a collaborative input, there will be an opportunity for questions & exchange.
Directions (including low barrier access) to 4lthangrund see: https://www.4lthangrund.jetzt/zugang-zu-4lthangrund/