Info in English, see below!
Awareness Basics für Schichtpersonen – Szenarientraining (Teil 2)
Mittwoch 1.11.2023 15h – 20h in Wien / oder:
Samstag 2.12.2023 15h – 20h in Wien
Im zweiten Teil des Basisworkshops geht es um vertiefende Aspekte und aufbauende Praxisvermittlung für Awareness-Schichten. Einerseits wird die Abgrenzung zu anderen Unterstützungsformen klarer, es wird verstärkt auf Gesprächsführung und die Zusammenarbeit in einem Team eingegangen, Selbstreflexion und die Grenzen der Handlungsmacht einer Awareness-Person werden thematisiert. Mittels eines Szenarien-Trainings kann nicht nur praktisch gemeinsam geübt werden, sondern auch Austausch zu verschiedenen Situationen und Settings stattfinden und mehr über die Herausforderungen, Möglichkeiten, aber auch Grenzen der theoretischen Grundlagen von Awarenessarbeit gelernt werden.
Der Workshop findet in deutscher Lautsprache statt, ist möglichst interaktiv gestaltet und es wird mit unterschiedlichen Medien und Methoden gearbeitet. Wichtig ist die gesamte Anwesenheit in diesem Workshop, um die Basis-Schulung abschließen zu können.
Voraussetzung: Dieser Workshop kann nur nach Absolvieren des ersten Basis-Workshops mit den dazugehörenden Schnupperschichten besucht werden, oder wenn man bereits aktiv im Awareness-Bereich arbeitet.
AwA* macht neben der Bildungsarbeit auch viele Veranstaltungsbetreuungen. Wir suchen regelmäßig nach Menschen, die gerne Awareness-Schichten im Rahmen unserer Aktivitäten übernehmen möchten und wofür unsere spezifischen Workshops auch qualifizieren können. Wenn Interesse daran besteht, gebt uns bei der Anmeldung Bescheid und wir sprechen gerne individuell mit dir, was das bedeutet und über die Möglichkeit einer Kosten-Reduzierung.
Der Workshop kann auch von Kollektiven oder Institutionen gebucht werden und kann dann den eigenen Bedürfnissen angepasst werden.
Wenn ihr spezielle Fragen zu eurer Teilnahme an den Workshops habt oder bestimmte Voraussetzungen/Unterstützung braucht, um bei den Workshops teilnehmen zu können, schreibt uns bitte gerne und wir schauen, wie wir das berücksichtigen können.
Kostenpunkt:
Die Workshops sind auf freier Spendenbasis zugänglich und nicht gefördert. Wir empfehlen folgende Spende je nach Länge (wo noch Vor- und Nachbereitungsstunden dazuzurechnen sind) und damit auch mehr an Wissenstransfer für euch:
0 – 20 Euro – wenn du (fast) kein Geld hast, 20 – 40 Euro – wenn du eher knapp bei Kasse bist, 40 – 110 Euro oder mehr – wenn du gut über die Runden kommst. Der durchschnittliche Betrag von 40 Euro ist deckend.
Wichtiger Hinweis:
Alles, was mehr an Spenden hineinkommt, wird dazu verwendet, jene Workshops und Bildungsarbeit, wo weniger Geld reinkommt, auszugleichen. Vieles, was bei AwA* gearbeitet wird, ist ehrenamtlich und oft auch solidarisches Engagement.
Melde dich auf jeden Fall auch, wenn du kein Geld hast und versteh bitte den Spendenvorschlag nicht als finanzielle Hürde, denn alle sollen unabhängig ihrer jeweiligen finanziellen Mittel am Workshop teilnehmen können.
Anmeldung: Awareness Basics für Schichtpersonen – Szenarientraining (Teil 2)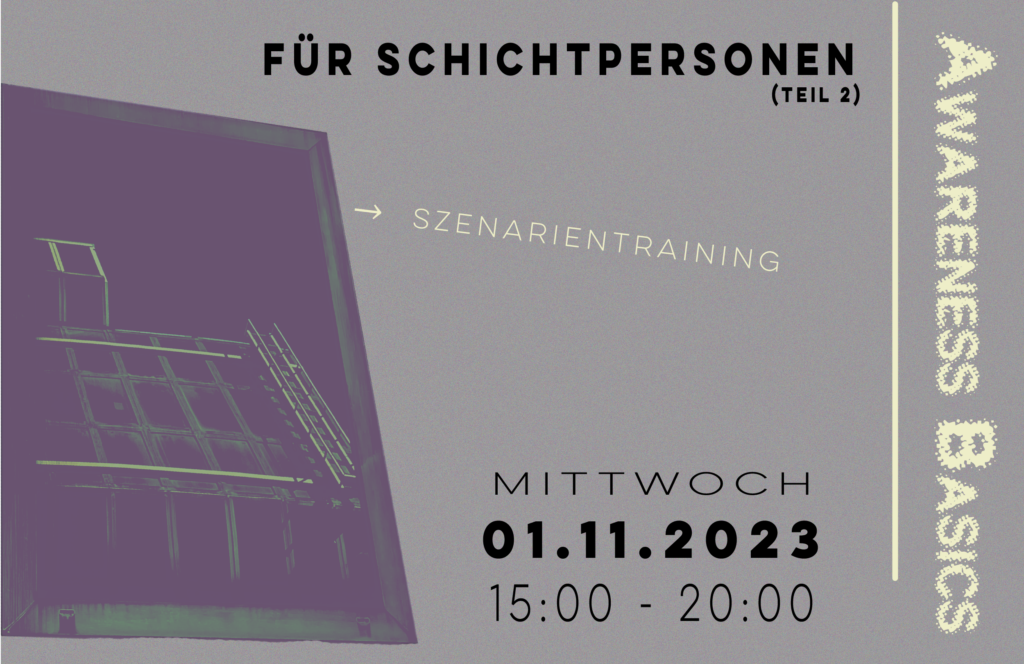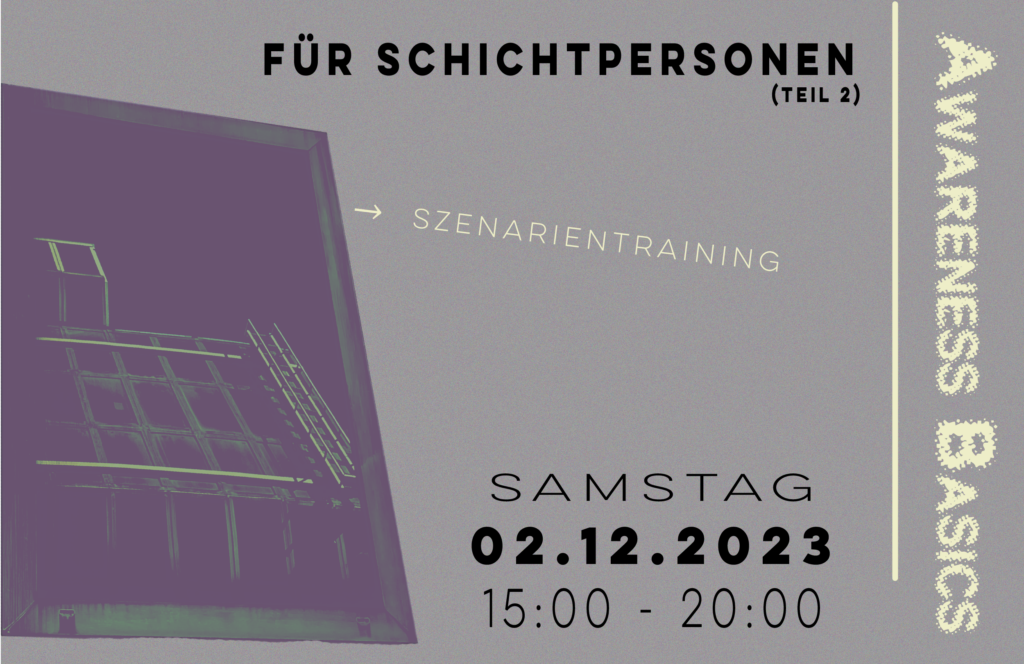 Infos in English
Workshop Awareness Basics – part 2 – situation training
Workshop length is 5h – we will find a date for this workshop in English, as soon as we have enough people interested!
The second part of the basic workshop deals with deepening aspects and building up practice for awareness shifts. The distinction from other forms of support is made clearer, there is more focus on how to conduct conversations and work together in a team, and self-reflection and the limits of agency to act are addressed. By means of a scenario training, not only practical exercises can be done together, but also exchange on different situations and settings can take place and more can be learned about the challenges, possibilities, but also the limits of the theoretical basis of awareness work.
The workshop will be held in English, will be as interactive as possible and will work with different media and methods. It is important to attend the entire workshop in order to complete the basic training.
Prerequisite: This workshop can only be attended after completing the first basic workshop with the associated orientation shift, or if you are already actively working in the field of awareness.
AwA* also does a lot of event support besides educational work. We are regularly looking for people who would like to take on awareness shifts as part of our activities, and for which our specific workshops can also qualify. If you are interested, let us know when you register, and we will be happy to talk to you individually about what this means and about the possibility of reducing costs.
The workshop can also be booked by collectives or institutions and can then be adapted to their own needs.
If you have specific questions about your participation in the workshops or need certain requirements/support to be able to participate in the workshops, please feel free to write to us, and we will see how we can take that into account.
Cost:
The workshops are open on a free donation basis and are not funded. We recommend the following donation depending on the length (where preparation and follow-up hours have to be added) and thus more knowledge transfer for you:
0 – 20 Euros – if you have (almost) no money, 20 – 40 Euros – if you are rather short of money, 40 – 110 Euros or more – if you can make ends meet. The average amount of 40 euros is sufficient.
Important note:
Anything more that comes in donations will be used to compensate for those workshops and educational work where less money comes in. Much of the work done at AwA* is voluntary and often involves solidarity.
Please don't take the donation proposal as a financial barrier, because everyone should be able to participate in the workshop regardless of their financial means.
Interest in participating in a workshop in english