IG Clubkultur, AwA* (Wien), awa_graz (Graz) und das EAT network (Innsbruck) präsentieren im gemeinsamen Gespräch ein Forderungspapier zu Gewaltschutz im Kulturbereich.
Seit einigen Wochen ist eine Vielzahl von Übergriffen im Clubkulturbereich thematisiert worden und auch medial publik geworden. Dank aktivistischer Arbeit werden Missstände, die es schon lange gibt, endlich sichtbar gemacht. Als Strukturen, die zu diesen Themen dauerhaft arbeiten, wollen wir Perspektiven und Forderungen zu sexualisierter Gewalt, Machtmissbrauch und Betroffenensupport einbringen. Die veröffentlichten Fälle sind nur die Spitze des Eisbergs und zeigen die Notwendigkeit eines strukturellen Wandels auf. Daher laden wir zu einem Gespräch ein, in dem wir unsere Forderungen an Politik, Verwaltung und auch an unserer eigenen Szene(n) präsentieren wollen sowie einen Diskussionsrahmen über die Clubkultur mit Blickpunkten aus verschiedenen Städten (Graz – Innsbruck – Wien) bieten möchten.
Datum: Dienstag, 05.09.2023
Uhrzeit: 10h30 – 12h
Ort: Venster 99 – Stadtbahnbögen 99 – 1090 Wien
Auf Nachfrage (e-mail an press@clubkultur.org) kann auch Zugang zu einem Web-Stream zum Termin gegeben werden.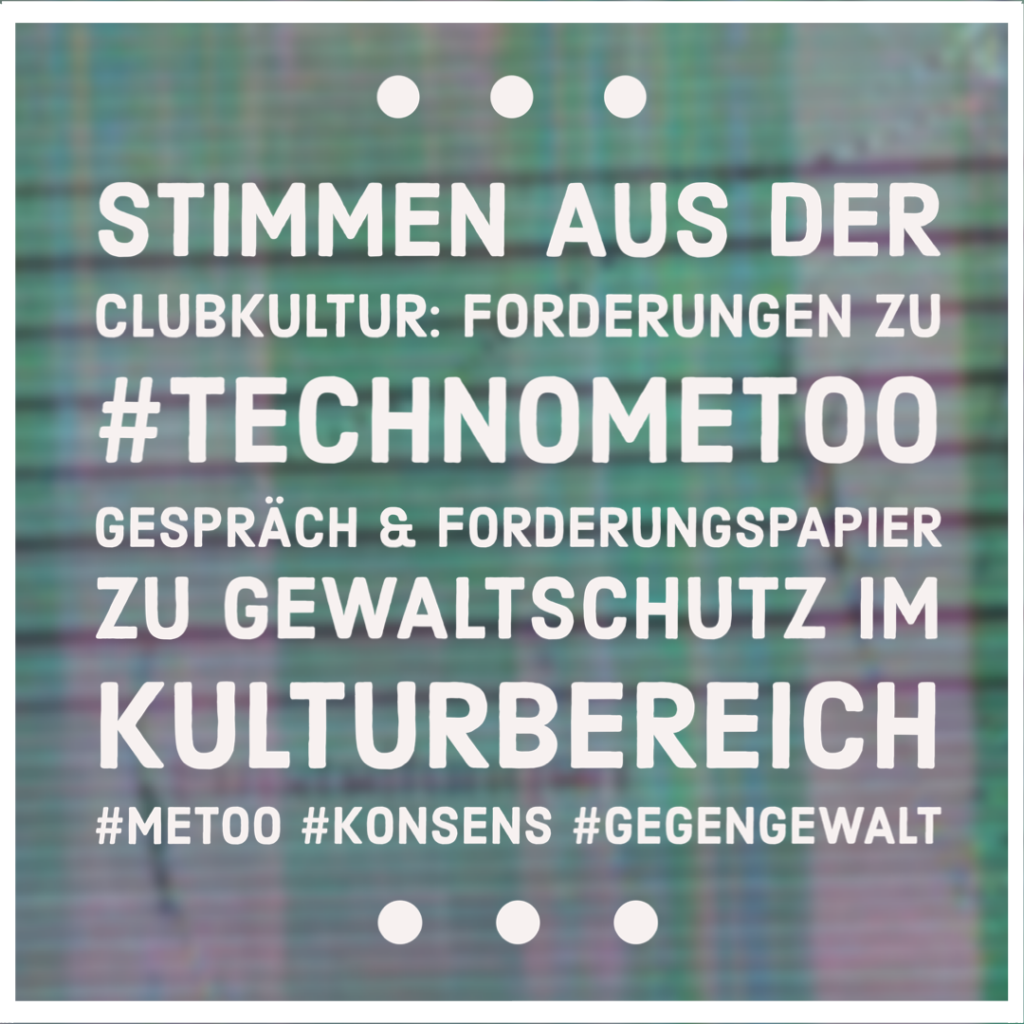 Voices from club culture: demands related to #technometoo
IG Clubkultur, AwA* (Vienna), awa_graz (Graz), and the EAT network (Innsbruck) together present a demand paper on the protection against violence in the cultural sector.
In the last few weeks, numerous assaults in the club culture sphere have become a topic of discussion and have also been publicized in the media. Thanks to activist work, abuses that have existed for a long time are finally being made visible. As structures that work on these issues on a permanent basis, we want to bring perspectives and demands on sexualized violence, abuse of power, and support for those affected. The published cases are only the tip of the iceberg and show the need for structural change. Therefore, we invite you to a discussion in which we want to present our demands to politics, administration, and also our own scene(s) as well as offer a discussion framework about club culture with perspectives from different cities (Graz – Innsbruck – Vienna).
Date: Tuesday, 05.09.2023
Time: 10h30 – 12h
Venue: Venster 99 – Stadtbahnbögen 99 – 1090 Vienna
Language of the Talk will be German, all demands will later be also published in english.
On request (e-mail to press@clubkultur.org), access to a web stream of the appointment can also be given.