2022 war intensiv!
(english version see below)
Wir waren vielfach aktiv…
.. bei Demos, die wir unterstützt haben.
.. mit Awareness im öffentlichen Raum.
.. bei Veranstaltungsbetreuungen und Solifesten.
.. bei kostenfreien offenen Awareness-Basics Workshops für Gruppen und Einzelpersonen, die sich mit dem Thema beschäftigen möchten.
.. bei Vernetzungstreffen für Awareness & Security.
.. mit Awareness bei Festivals.
.. bei digitalem Awareness Support.
.. beim Erarbeiten von Bildungsmaterial und Awareness Grundsätzen.
.. mit Vernetzung im Awareness Institut, bei der IG Club Kultur und in verschiedenen Städten.
.. mit Organisationen, die wir beim Aufbau eigener Awareness-Strukturen unterstützt haben.
Auch im Folgejahr wird es so vielfältig weitergehen!
Wir arbeiten weiter gegen Gewalt – ein Thema bei dem gesellschaftlich weiterhin oft weggeschaut wird. Wir sind direkter Support vor Ort, wenn Personen Unterstützung brauchen. Wir machen Bildungsarbeit, vernetzen uns und informieren.
Unser Kollektiv ist klein und ein großer Teil der Arbeit passiert nach wie vor unbezahlt. Trotz der Wichtigkeit des gemeinsamen Agierens gegen gewaltvolle und diskriminierende Verhältnisse können wir nicht immer alles, was wir machen wollen oder wofür wir angefragt werden, abdecken.
Aber wir nehmen Anfragen wahr und antworten so schnell wie möglich. Wir bauen mit euch gemeinsam Netzwerke und Strukturen, hin zu einer gewaltfreieren und solidarischen Gesellschaft.
Umso mehr ein großes Danke an alle, die…
.. regelmäßig ein Support sind.
.. ab und zu dabei sind.
.. ein Teil von AwA* geworden sind.
Auf Zuwachs freuen wir uns jedoch immer!
Schreibt uns gerne an office@awa-stern.info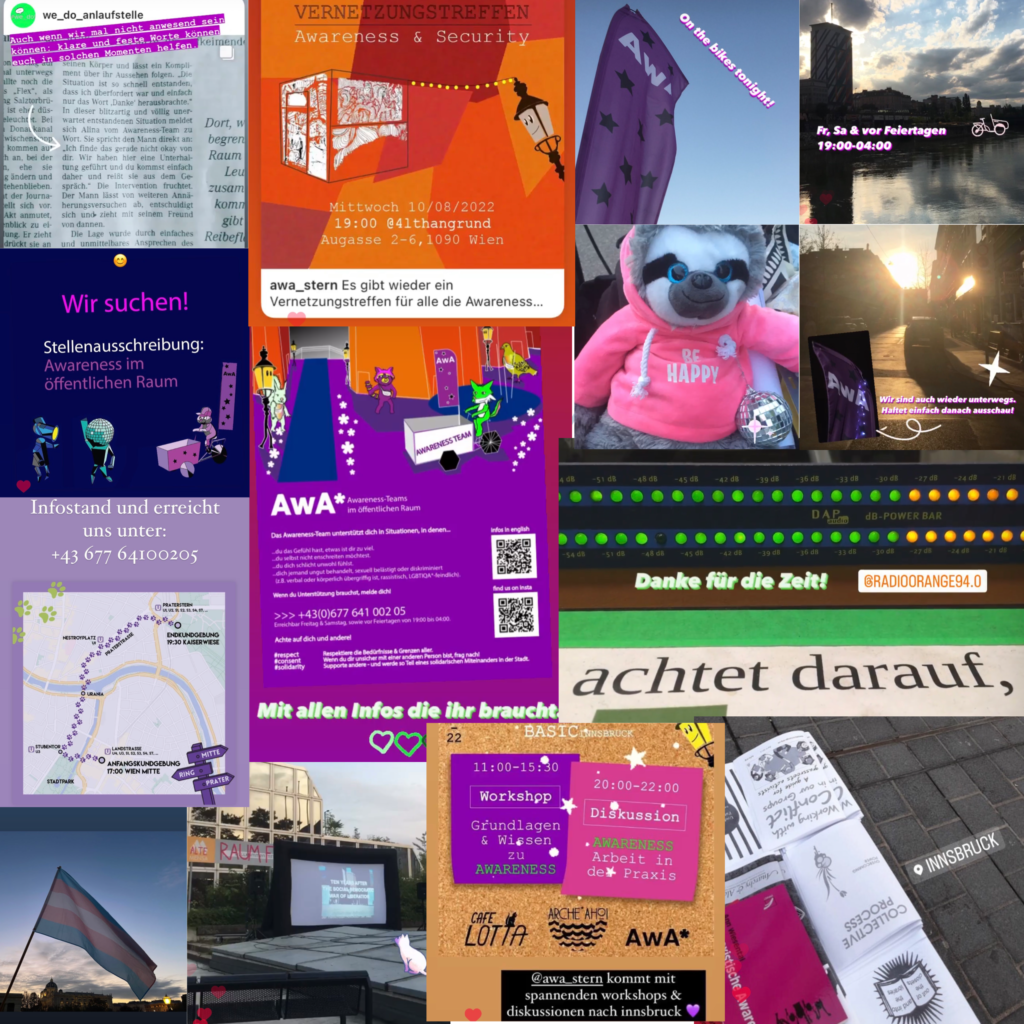 2022 was intense!
We have been active in many ways…
… at demos that we supported.
… with awareness in public spaces.
… supporting events and solidarity parties.
… at cost-free open awareness basics workshops for groups and individuals who want to deal with the topic.
… at networking meetings for awareness & security.
… with awareness at festivals.
… with digital awareness support.
… developing educational material and awareness principles.
… with networking at the Awareness Institute, IG Club Kultur and in various cities.
… with organizations that we have supported in setting up their own awareness structures.
We will continue in this way in the following year!
We continue to work against violence – a topic that society often looks away from. We provide direct support on site when people need it. We do educational work, network and do info-work.
Our collective is small and much of the work is still unpaid. Despite the importance of acting together against violent and discriminatory conditions, we cannot always cover everything we want to do or are asked to do.
But we respond to requests and answer as quickly as possible. Together with you, we are building networks and structures towards a society free of violence and based on solidarity.
All the more, a big thank you to all those who…
.. are regularly a support.
.. are there from time to time.
.. have become a part of AwA*.
However, we are always happy to welcome new members!
Feel free to write us via: office@awa-stern.info